During your pet's stay: Your dog or cat will relax in their own private, climatized suite with low stress soft lighting, soothing music, a cozy bed, fresh water and customizable dining times... and always lots of love and pampering by our attentive, caring staff.

A minimum of four daily 20 minute outdoor potty and stretch breaks are included in your dogs boarding stay.

Supervised k-9 Group Playtime and other fun activities are also available for added exercise and socialization: Look in the "Other Adventures" section for details.


---
What to bring:

• Your pet's food (required)

• Clean bedding, toys and treats are optional
---
10% Boarding discount when your
pet stays 9 nights or more!


---
Check-in / Check-out:
Dogs & Cats:
Monday through Friday_______________ 8:30am to 5:30pm
Saturday and Sunday ________________12:00pm to 5:00pm
*Saturday and Sunday between 8:30am - 9:00am

(*for boarding pick-up & drop-off only)
---
Cat Boarding Rates: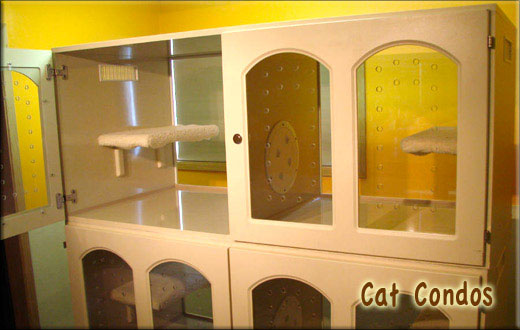 Cat Condos in the Sunshine room:________$32.95 per night
---
Dog Boarding Rates:
Deluxe Suite:__________________$42.95 per night per dog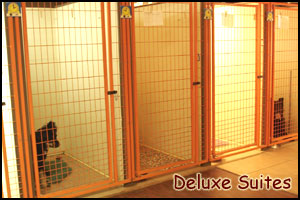 King Deluxe 10' x 10' Suite: (for 1 to 3 dogs, "friends and family") Multi-pet discount applies. See details on the Specials page.
First dog:_____________________________$48.95 per night
Each additional dog:____________________$27.95 per night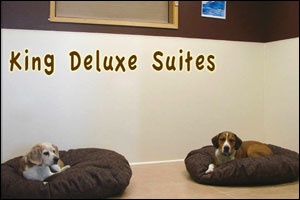 Note:
We do not charge extra for early pet boarding check-ins, within our office hours. However; dogs checked out after 12:00 pm are assessed a $5.50 per hour daycare fee. And cats checked out after 12:00 pm are assessed a $3.50 per hour daycare fee.

There is a $30.00 fee for early bird or late night check-ins and check-outs, outside of our office hours. Please contact us in advance and we'll try to accommodate your needs.
A deposit is required prior to your pet(s) boarding stay. If there is a cancellation for any reason the deposit remains on your account as a boarding credit and is redeemable at your pet(s) next boarding stay for up to one year after the cancellation date.


No refunds for early pick-up.
If you pick up your dog or cat prior to the scheduled pick-up date, we cannot issue a refund for the unused days. Please realize too, that we may not be able to send your pet and his/her bedding home as clean as we would on your scheduled pick-up day.
---
HOLIDAY PERIODS:

•Spring Break Vacation: 3/22 - 3/31
•Memorial Day weekend: 5/22 - 5/26
•Independence Day week: 7/3 - 7/7
•Labor Day weekend: 9/4 - 9/7
•Thanksgiving break: 11/25 - 11/30
•Christmas/New Year: 12/22 - 1/2

During these times, stays will include a $3.50/night holiday fee. Our lobby and administrative office is closed for pick up and drop off on the following days: Easter, Memorial Day, Independence Day, Labor Day, Thanksgiving Day, Christmas Day, and New Years Day, and will close early on Christmas eve and New Years eve.
Please call: 541-298-PAWS (7297) for more information.
Please see Boarding requirements here